Services
Recycled Movie Sets offers the following services: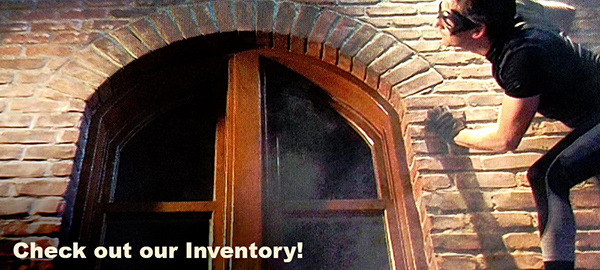 Rentals
Over 30,000 sqft of Rental Inventory in Stock!
Our massive inventory is now catalogued by Categories and Tags to make searching our inventory quick and fun. Just type a descriptive word into the search bar and see what comes up!
Use the filters on the sidebar to narrow down your options, then add to your set list. It's that easy.
No time to browse or just way too overwhelmed?
Feel free to send us your reference photos or layouts and we will recommend items that complement your design.
Looking for more than just set walls?
We also rent set-dec, flooring, wall jacks, whalers, sandbags, and more.
Need help budgeting?
Our rental prices are based on square footage, allowing you to build a budget based on the size of your set, even if the details are still being collaborated on. Feel free to send us your sketch or layout so that we can help you solidify your budget.
Sales & Liquidation
We need your help! As a diversion company, we receive new inventory weekly. So where does it all go? That's where you come in.
Why build when you have an unlimited inventory available to you?
Much of our inventory is available for purchase, and odd-walls and older inventory may be available at reduced rates. Purchasing is also a great option for long terms rentals when paying weekly rental rates is out of the question.
Looking to create a permanent installation or increase your rental inventory?
Our product is made by industry professionals, and we only collect items that have the strength for reusability.
See something you like, but maybe its out of your budget?
Make us an offer, and we can work with you to make your project a success.
So low budget you want to cry?
Use our reduced rate Clearance Items to pull off a miracle!
Diversion
Seeking an alternative to the Landfill?
You've found it! We provide timely and cost effective solutions to divert valuable resources from the dump, helping productions reduce waste, and save money.
How does diversion service work?
Recycled Movie Sets has the ability to receive materials from stage and storage, but all items must be approved by our team prior to donation. Feel free to send pics, dates, and a list of what you are trying to divert for us to review, or schedule a site inspection for us to view the items in person.
Do you charge for diversion service?
We have the ability to transport from storage and stage, and there is a small transportation fee based on volume, schedule, and labor required. We do our best to keep this rate less than what it would cost to throw it away, taking the dumpster fees and labor into consideration.
For larger diversions like show strikes and storage clean outs, we collaborate with all parties involved to make the process seamless, timely and cost effective. Our field representative is always happy to meet you onsite to view your inventory and make recommendations.
Do you take drop offs?
We occasionally receive small drop-offs at our Elwood Facility at no charge, but items must be approved in advance. Items must have the strength to be reusable, and should not be made of out MDF. Contact us to submit your pics and inventory list for approval.
Transportation
Our affordable transportation rates ensure your goods are dropped off safely, on schedule and then picked up before hard outs. We use low trailers to make offloading a breeze, and this option is much safer than loading big walls onto a stakebed or shoving items into a box truck.
Seeking after-hours or weekend transportation?
Our reliable transportation is available 7 days a week 24 hours a day. Standard Delivery Rates are Monday thru Friday 7:30am to 3:30pm. After-hours and weekend rates bill at 1.5 times the standard rate.
Prefer Union Transportation?
We offer union transportation through our partners and preferred vendors.
Requesting delivery outside of Los Angeles, or even out of state?
To date we have delivered as far as San Diego, Seattle, New Mexico, Louisiana, New York, Atlanta and Florida. Transportation options and rates are based on location and size of materials. With many shipping options available, we'll help you assess the most timely and cost effective means for your project.
Shop Space Rental
Our shop space, build space, and spray booth are available for short-term rentals, pending availability. Use this option to prep and paint your walls, or make modifications and upgrades to your rentals.
The best part is you have access to our tools, equipment and reusable construction materials which saves you money! We have a large inventory of paint, molding, scrap lumber and other materials available for reuse. As a courtesy, many of these items are included with your shop space rental.
After you have modified your walls, we can store them until you are ready to pick up, or better yet, have us deliver!